Style # 10-08
Solid Color Spinnaker II Nylon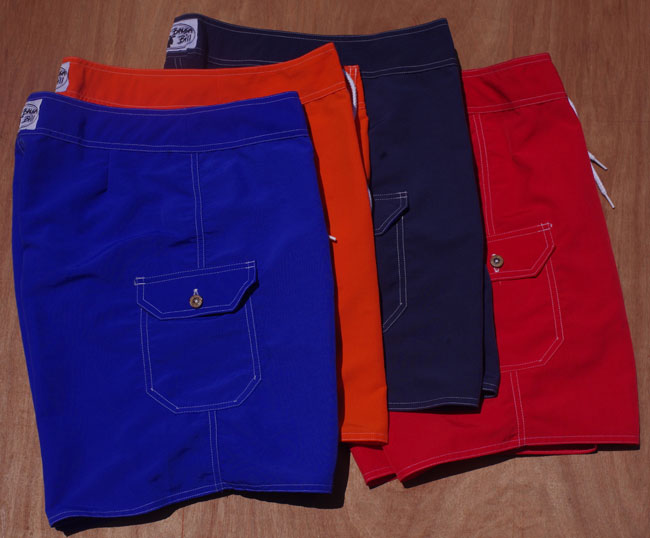 Available Colors: Royal, Orange, Navy, Red
There is contrast trim color under the pocket flap and in the flypiece.
Sizes: 30-40 even
We call our new nylon Spinnaker II because it has the feel of lightweight spinnaker nylon for comfort but a little heavier (4 oz.) for the durability and longevity you need in a good pair of surf trunks.
The yarn is Taslanized before it's woven. Taslanized means it's soft and pliable. In other words we've already broken in the fabric for you. And like real Spinnaker, the kind they use in sails, it has a heavier yarn in the fill weave. In this case it's four plies. That gives it strength and helps it hold it's shape.
It's almost impossibe to find good nylon trunks anymore with so many brands being made of polyester microfiber. And did you notice how all the surf brands look alike? Not ours. Distinctive and stylish. Notice the contrast detail under the pocket flap and in the flypiece where the button holes are. Yes we use real coconut buttons in our flies.
Attention to detail and quality construction.
Pliable and comfortable. Subtle but stylish. Classic, cool and traditional. They dry quickly too.
And they are hand tailored right here in the U.S.A.
The best fitting most comfortable trunks on the planet. How long (short) are they? 18" sideseam 7 3/4"
$59 Includes Shipping and Handling anywhere in the USA