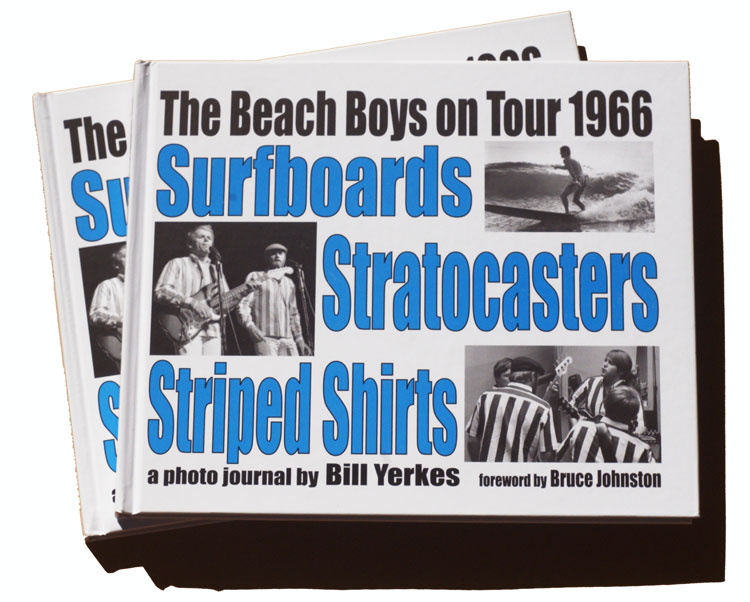 Or click here to order directly from Surf Chaser Publishing div of Balsa Bill
Reviews
Click here to see the review on the Rockabilly 'n Blues website
Click here to see a review by Phil Miglioratti on his Pray For Surf website
Another 5 Star Review from Amazon
5 out of 5:
"AWSOME SELLER!!!! AWSOME BOOK!!!! If you are a fan of the Beach Boys 1962-1967 (Striped Shirt Era) this book is a must have! The photographs are stunning and the text is well chosen. Thank you Mr. Yerkes for being there with your camera at that time and place in music history! Well done sir."
Robert K., May 4, 2013
From a Beach Boys website:
REVIEW: This self-published book by Bill Yerkes, long-time surf-hound and Beach Boys aficionado, is a wonderful gift for fans of the Beach Boys. Essentially chronicling four concerts from 1966, beginning April 29th at Cornell University, Ithaca, New York, and continuing to a July 23rd Asbury Park, New Jersey date, followed by a July 30th Atlantic City, New Jersey show, and finally a November 22nd return to Ithaca at Ithaca College, this book is literally a "snapshot" of a pivotal moment in Beach Boys history. With a few pages of text interspersed between the large, glossy black-and-white photographs of behind-the-scenes and on-stage moments, the author details how he and his roommate snuck into the backstage of the concert, and his first meeting with Bruce Johnston, followed by the rest of the band, on the eve of the release of Pet Sounds. Carl talks up the release, claiming it is far better than Summer Days (the author's then-favorite album), and the author remembers the night with remarkably clear hindsight. Luckily, he took his 35mm camera with him, and documented several close-up, candid moments of the band rehearsing and lounging around, and later, in performance. At the next concert, the Beach Boys are dismayed to discover that DJ's in the city haven't been playing the "A"-side of Pet Sounds first single, "God Only Knows" (over concern of the word "God" in the title) and are instead flipping the disc to the "B"-side "Wouldn't It Be Nice" which the band has never played live before. Quickly, the band throws together a concert version of the song backstage, and inserts it in the set list right after "Sloop John B" all of which is photo-chronicled by Mr. Yerkes. The author also documents Dennis's first stabs on the piano of what would eventually become "Forever," and later snaps what would be one of the Beach Boys last performances in their striped shirts, shortly before the release of "Good Vibrations." The book's presentation is very simple, heartfelt, and genuine - a rare thing for a fan publication, but the author is wise enough to keep his words to a minimum and let the photographs do most of the talking. A very nice addition to the Beach Boys library.
From Brian Wilson's website main forum posted by a member
I don't know author Bill Yerkes, but I like him for this: the first time he saw The Beach Boys in concert, he'd snuck in. This is a nice hardbound time capsule of a book. There is a nice intro from Bruce Johnston and loads of glorious black and white photos (oh those stripes!). A few stand out pics show Mike and Bruce, right before their July 23, 1966 concert at Asbury Park Convention Hall in New Jersey, writing the setlists on their hands! Then there are some nice backstage photos of Dennis at a piano with some lovely, smitten young ladies looking on. Say what you will about Denny, he was one good looking guy.
The book is 39.95. Available from the publisher through Amazon. It's a worthy addition to my ever growing collection...
M. Ketchum
Another review posted by a member on the Brian Wilson Forum
It has arrived! Balsa Bill's new book The Beach Boys on Tour 1966. I just got my copy from, my surf buddy, Bill. What a great treat! This is not just a period photo book. It has a very informative commentary as well as the unpublished photos. Now I do pride myself a bit on my knowledge of BB history ... but Bill taught even this old dog a few things. It is full of wonderful photos & tidbits of info.
My suggestion:
1.Open this book and put on Bruce's Endless Harmony cut on Keeping the Summer Alive.
2.Then read Bruce's forward. This book is a seamless fit.
3.Check out the photos and then listen to Dennis' Forever, even a magic transistor radio made the cut, TWGMTR reference,the 50th anniversary tour? Yep, it's all there plus much more.
Mele Kalikimaka
Thx Bill
Terry
Wonderful Book!!!
By Dwayne
Amazon Verified Purchase
I couldn't wait to order this when I heard it had been released and now that I hold it in my hands, it was more than I expected! It tells the story of a band in large B&W pictures that is in transition from the striped shirts still very much everybody's favorite band live on stage, behind the scenes and in the dressing room trying to learn a live version of their latest hit single. In a short time, they would shed their stripes and be considered "non-hip" so this is a great visual record of that innocent time when they were still on top of the world in the 60's. The pictures are raw so, yes, there are a few blurry ones but most are crystal clear and we should be thankful that Mr. Yerkes decided to share with the world his collection of historic photos. I highly reccomend this book!
For the real true fan
By Michael R. Delfin
Amazon Verified Purchase
I bought this book for one reason. I first saw The Beach Boys, April 1966, in Texas. You have to remember standard cameras were not very good back then so it was useless taking my small Swinger model to the concert.
Anyway press coverage was limited so here was my chance to have pics from that tour. I am not disappointed at all in this book. Glossy black and white pics, on stage and backstage. Love the story line with each page and set list. Bonus to the book it was signed by the author. Unfortunately the Texas tour had started before the photographer joined the tour in New York.
They Live !
By Charlie Dontsurf
Amazon Verified Purchase
I bought the book, read & looked at it & I have only few words to say in my poor english about the photos : THEY LIVE !
Best from Paris (France)
Great record of a era
By John Manning
Amazon Verified Purchase
Plenty of great photos here.Some are blurry and otherwise wouldn't have been published in any other context (there's even a double exposure) but this is a fly-on-the-wall glimpse of the band backstage and on.
Recommended to all Beach Boys fans,
By Brigitte Horton
Amazon Verified Purchase
This review is for: The Beach Boys on Tour 1966, Surfboards, Stratocasters, Striped Shirts (Hardcover)
Got this book recently as a present to myself to learn more about the Beach Boys in back days, before I was born. Gosh, I love them in striped shirts. The book is amazing, good information on all events and it has many wonderful black and white pictures. I am sharing some of the pictures on my Dennis Carl Wilson the real Beach Boys fan site. If you love the Beach Boys, this book is highly recommended. I have a lot joy with this book and I hope that the author will come up with another book.
And this by email from Germany
Hello Bill,
your book had dropped in last week.
Congratulations to this masterpiece.
I enjoy the fotos as well as the authentic words you´ve written to some pictures.
I am overwhelmed with the amount of first side pictures you ´ve shot.
It is fine seeing poics from a friend than pics shot of band members,
because they are in a beat band.
I just listened to an interview from 1966 taken in Japan where Al jardine said,
"we like to sing, we are not an instrumenatl band like the Ventures.
Hope you´ll like our music"
I had given informations for your book on the Germany "Surf Musik
Forum", hope some collectors will order it.
Hope your book will sell in quantities which helps to get back the investigations on this project.
Thanks a lot for sharing these private shots with us!!
yours truly
Ruediger
Another by email
Hi,
Got the wonderful book today.
Please accept all my Best Wishes for the New Year
Gerard - France
Published by Surf Chaser Publishing
a Division of Balsa Bill
email: SurfChaser@BalsaBill.com